Realizing that as many as 50% of the potential cavities are missed by the old poke and probe method, Dr. Briggs switched to the completely painless Diagnodent® decay detector. Using technology, the decay diagnosis is made with a special laser designed to not hurt you, your teeth, or your gums. It finds even the smallest decay in your mouth.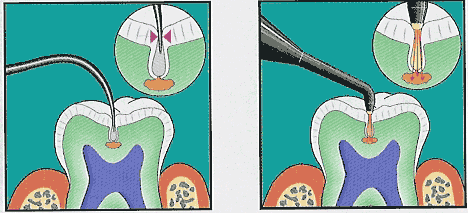 In the past, x-ray technology and dental probe needles were the only way for dentists to find cavities. Unfortunately, both methods required the decayed area to be fairly large to be noticed by x-rays, and to be confirmed with the diagnosis needle (as shown in the first image). The Diagnodent® decay detector is a blessing for dentists and patients alike, which will prevent unnecessary pain, costs, time, and anxiety.
The small Diagnodent® laser works by emitting a harmless laser on the surface of teeth, which measures differences in tissue structure on teeth. When small cavities are detected, the Diagnodent® laser provides an audio cue, and a scaled number of the size of the cavity (as shown in the second image). A great advantage of this early detection method is that tiny cavities can be corrected before they become a problem, which saves you money. This new laser decay diagnosis device is the perfect tool to quickly evaluate the health of any patients' teeth.
You can be assured that you are receiving the right care when you come to Briggs Family Dentistry, where no cavity will be undetected.